Posts Tagged 'Conversion rate optimization'
Comments (3)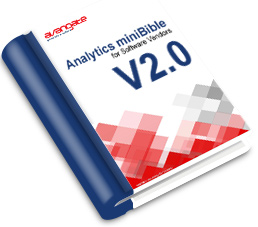 It seems the interest for analytics in the software vendors community increases more and more, according to the requests I get by email. I believe in actionable metrics, so I decided to act and publish an updated version of the Analytics miniBible for Software Vendors.
No matter if you got the chance or not to download the first release, here are some changes and highlights in this analytics eBook for software vendors.
Switching to async tracking
When Google Analytics first introduced asynchronous tracking, a lot of people reacted as being one of the biggest improvements in web analytics in ages. The new tracking technology offers better accuracy and affects less (close to zero) the loading time of websites.
The Analytics MiniBible for Software Vendors offers step by step support on how to switch all your tracking needs to the new asynchronous technology.
Comments (8)
Nowadays everyone is talking about increasing your conversion rate as the main driver for generating more revenue online. Well, it is, actually :) and it's up to all entities in the buying process – vendor, resellers, affiliates – to optimize this in order to generate more sales.
From the data we have, the customized shopping carts perform 2.7% better (in absolute value) than the others.

This means that if you optimize your order interface, you may generate an additional sale for each 37 sales you're already generating.
As a member of the Avangate Affiliate Network, you have advanced tools to improve this very important KPI. One of the unique possibilities we offer in our affiliate network is the affiliate order interface customization.
Did you ever wonder how the users act during the buying process? What happens after your visitors are redirected to the shopping cart / Avangate secure servers?
Why customize your shopping cart?
If you're using buy links directly to the shopping cart on your affiliate website, you should consider customizing your order interface template, at least for the following reasons:
Comments (3)
How high is your shopping cart conversion rate? Is it 30 or less? 40? 60? One day a client asked me: what exactly makes a conversion rate to be smaller or higher? Is it the number of steps, the security logos, the product images, adding/removing cross selling? Unfortunately, there is no such thing as a secret formula to it. However, we have found that the absence of 3 elements can influence in a negative way your shopping cart conversion rate: trust, confidence and security.
On trust, confidence and security
Trust comes from the experience with the shopping cart itself. Most of the users don't care about technicalities or 3rd parties and so on, but when they find themselves in a cart that doesn't look like anything on your website, some of them will hesitate to trust it. A feeling that something might be wrong could take over. It's common sense after all. In all the tests we've done, the better the customized cart was (in terms of look and feel), the higher the conversion rate.
Comments (13)
For the last couple of months there has been a frenzy here in our web marketing department about A/B testing and Conversion Rates. Why the frenzy? Basically because all elements came into place: we developed a high performance A/B testing module within the eCommerce platform, we finished rolling out Omniture Site Catalyst on the shopping carts and we improved the template editing areas for all the accounts so it's easier than ever to start testing templates.
We have finished quite some tests so far, some with better results than others, so we are pretty confident on making some bold statements on the 3 factors that impact conversion rate in our experiences.
Comments (2)
During a research on shopping cart conversion rates I did the last couple of weeks, I found websites with 0,4% funnel conversion rates and others with completion rates up to 70%. I never expected to find such big discrepancies; no analysis can be made in such conditions so I started to look up  reasons for these discrepancies.
After talking to different software vendors about various issues their potential customers reported and after noticing different trends in multiple analytics data, I found the fugitive criminal guilty for many many abandons in shopping carts: Shopper Trust.
Shopper Trust Wanted. Reward Offered.
How to find it? Easy, or so they say. Check out the following clues.
1. Among Trust's best friends there's a guy named "Price"
It's important for your users to pay the "right" price for your products, but more important is to really know how much a product costs. You might say this is obvious (I for sure would have said that), but going from one website to another I found many where it was unclear how much a product costs.
It's not mandatory to  have the price on the right or on the left of the screen. The important thing is that when the user says to himself "I wonder how much this software costs. I'd like to buy it", he should get the answer before he gets to finish his sentence.
My 2 cents is to always have the price next to the buy button or link. This way you make sure that every time a user gets in the shopping cart he already knows the price of your product. Also, place it next to the product box, something very similar to the offline world where the user is used to always have the price next to the product he is buying.
Comments (4)
To be honest more and more software vendors our company works with don't track downloads and, what is more exciting, "downloaders". So, I went to my favorites dev geeks in our team, Alex and Serban, and asked them to help me find out a really-really easy way on how to track downloads and "downloaders".
This method is specially created for all those website where there is a download button which just starts the download and nothing else. Yes, we do recommend having "Thank You for Downloading" pages which are very easy to track (just place the standard Google Analytics tracking code on the pages), but for those of you who don't intend to do that I've come out with this neat 4 step tutorial on how to do it.
Step 1: Adding some code
Just add the following code between <head> and </head> on all your pages from the website where the download can be initiated.